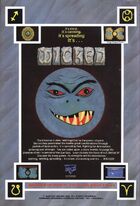 | Format | Reviews | Average Score | First Review |
| --- | --- | --- | --- |
| C64 | 2 | 89% | Dec 1989 |
Publisher: Electric Dreams
Image
Magazine
Issue
Published
Reviewer(s)
Pages
Rating
Adj Rating
Comment
Zzap!64
57
Dec 1989
Stuart Wynne,
Phil King
0.50
(74)
82%
82%
An original, and extremely playable arcade game.
YC
64
01 Dec 1989
Rik Henderson
2
(18-19)
95%
95%
Wicked is, how do I put this without sounding too cliched or pretentious, wicked! It is a game that has me squealing for more.
Community content is available under
CC-BY-SA
unless otherwise noted.